Welcome to  Jo's website.  Jo is an English teacher,  artist and puppeteer. She has been making and doing puppetshows for young and old since 1998 and plays at schools, community centres, (street)festivals, (birthday)parties,  for companies, clubs and you name it. The great diversity of plays suits different groups in various situations. Don't hesitate to ring if you have any questions: (+31622026431)          
Shows in English
Jo grew up in UK and teaches English in  primary schools in Netherlands and the puppets help out.  Schools, companies, groups can make bookings.  For people who want to learn or enjoy English Jo offers a set of lessons bedded in puppetry with "The wizard and the lion", an interactive musical play. The puppetplay can be booked  either as a show or as a project of (English) lessons building up to a performance in which the children take part..   Theme of the play is development of intellectual skills, empathy and courage and that for all that fantasy is crucial. Goal of the project is that children learn and gain confidence and stimulate their imagination. "The wizard and the lion" can also be booked during Jo's tour in UK  this coming July.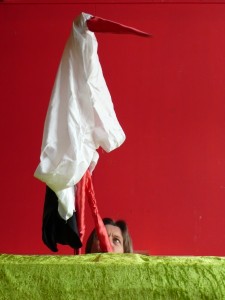 't Beschilderde Huis : a very special Bed & Breakfast
Jo has painted the floors and her paintings are on the walls. At the breakfast table you might be joined by Rosy, a prince or a lion…It is a place for people who like nature, peace and quiet or for people who like a small  adventure in Jo's world of imagination…..            
 Welcome!