Welcome to  Jo's puppettheatre and B&B 't Beschilderde Huis!        
Prince Walter and Willemijn                                  B&B 't Beschilderde Huis
The puppettheatre 'Drie in de Kast'  was set up in 1998 and shows suitable for children from three to a hundred can be enjoyed in the Hometheatre at 't Beschilderde Huis or booked on site by schools, companies, clubs or privately.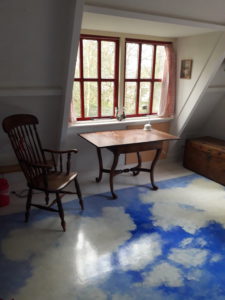 Hemelkamer in 't Beschilderde Huis
't Beschilderde Huis : a very special Bed & Breakfast
Jo has painted the floors and her paintings are on the walls. At the breakfast table you might be joined by Rosy, a prince or a lion…You never know! It is a place for people who like nature, peace and quiet or for people who like a small  adventure in Jo's world of  imagination…..We love improvising.             
 Welcome!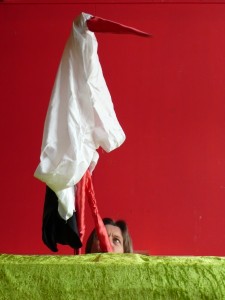 Shows in English at schools
Jo grew up in UK and teaches English in  primary schools in Netherlands and the puppets help out.  Schools, companies, groups can make bookings.  For people who want to learn or enjoy English Jo offers a set of lessons bedded in puppetry with "The wizard and the lion", and other interactive musical plays. Puppetplays can be booked  either as a show or as a project of creative (English) lessons building up to a performance in which the children take part. Goal of these projects is that children learn and gain confidence and to stimulate their imagination. "The wizard and the lion" can also be booked during Jo's tour in UK  in this year
The Scarecrow and the  Lion from "The Wizard and the Lion"