"Stripes for tea" als entertainmentsvoorstelling van ongeveer 30 minuten op scholen , voor particulieren of bij bedrijven.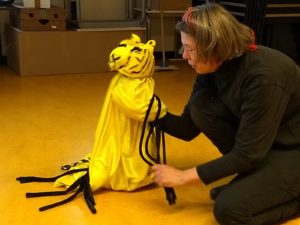 The show can be set up in a small corner as long as there is enough room for children to move around. 
Rosy is waiting for Tiger to come to tea, but all sorts of animals turn up. Will Tiger still come and what will they have for tea? Yummy Yummy sausages and….
Scholen kunnen "Stripes for tea" ook als project boeken voor een dagdeel of een hele dag. Al naar gelang het niveau van de kinderen en hoeveel tijd er beschikbaar is, geeft Johanneke spelenderwijs Engelse les en werkt zo toe naar de voorstelling.
Samen met de kinderen haalt zij door middel van tekenen en/of naspelen zoveel mogelijk uit het verhaal. Jo is 'native speaker' en heeft jaren ervaring als vakleerkracht Engels op basisscholen.
Zij is een meester in het improviseren.